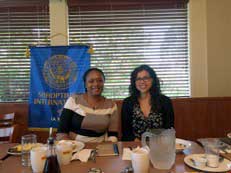 Le'Andra Hamilton returned to college as an older student, after significant obstacles created a break in her journey to attain a higher education. Poor life decisions she made as a young college student resulted in her being sentenced to state prison at the age of 23; she was paroled from prison in 2006 at the age of 35. She was able to return to college and graduated with two AS degrees: one in Small Business Management, and one in Alcohol and Other Dependent Studies. She is currently pursuing a higher degree in Social Work or Rehabilitative Counseling. Le'Andra volunteers as a peer mentor to at-risk high school students for the City Middle College Program, at Metro United Methodist Ministry facilitating supportive workshops for low income youth and ex-offenders, and volunteers for "From the Inside Out", a non-profit agency servicing youth involved with the criminal justice system. Her strength and perseverance are inspirational.
Candy Morales is currently a Protective Services Worker for Child Welfare Services in San Diego County. She graduated with her MSW in 2012 and is working on her current goal to become a Licensed Clinical Social Worker (LCSW). Her long-term career goal is becoming a clinical therapist working with high need, transition aged youth and young adults. In her job, she works with youth in foster care who were not able to reunite with their families and are reaching age of majority with limited support. Candy can relate with these children from personal experience, having to transition into adulthood with limited financial and family support. She is a former Guardian Scholar supported by Promises2Kids, and the Alex Smith Foundation. The licensing required to advance in her field requires significant extra time and expenses beyond her full time job, and a 2015 WOC mini-grant was awarded to assist her in a small degree towards achieving that goal.
Ruta Gebreyesus was not able to join us.  She is currently studying abroad in Australia! She is an SDSU student pursuing a Bachelor of Science degree in Foods and Nutrition. Her great love of children is guiding her towards a career goal as a Pediatric Registered Dietician or Pediatric Physician Assistant. Ruta had to overcome many obstacles on her way to higher education, growing up in Southeast Los Angeles, the child of recent immigrants. Her parents fled the Ethiopian-Eritrean war to Sudan, then to America, hoping for a better future. The whole family had to deal with impoverished status starting over in a new country, and the lingering effects of their war experiences. Despite these difficulties, they have strong family bonds, and her life experiences continue to inspire Ruta in her journey. We are proud of her accomplishments and wish her well.